Several people have been killed after a Modern Coast bus crashed at a notorious danger spot along the Meru-Nairobi Highway.
The carnage happened after the bus bound for Mombasa turned off the Nithi Bridge on Sunday July 24 after the driver lost control of the 57-seat PSV.
It then rolled downhill a number of times before stopping next to the Nithi River.
Onlookers at the Nithi Bridge, where a Modern Coast bus turned, rolled several times before landing on the banks of the Nithi River.
Meru daily news
Pictures seen by Kenyans.co.ke show that the bus was reduced to a mangled wreck, the upper part of which was completely ripped off.
Several bodies were sighted on the bus, in the river and along the river bank. Preliminary investigations point to brake failure as the cause of the accident.
Police officers have since taken charge of the scene and are controlling the traffic that has accumulated along the stretch of road.
The emergency services, including some of the motorists driving the route, launched a rescue mission to pull survivors from the wreck. A team from the Tharaka Nithi County Fire and Rescue Team was also deployed to the scene.
was also deployed, with survivors being transferred to PCEA Chogoria Mission Hospital and Chuka County Referral Hospital.
Statistics from the NTSA released in June 2022 showed that 1,912 people have died in street battles since January, with reckless driving identified as the cause of most accidents.
The agency also raised concerns about the increase in the number of accidents compared to 2021, which were attributed to reckless driving and failure to obey road signs.
Several people lost their lives along the bridge, which locals claimed on the winding nature of the road along the route.
In June, an accident claimed the life of one passenger while 13 others were injured after a 14-seat Matatu crashed into the Nithi Bridge.
Last year, five others died in the same spot after a truck collided with a matatu in the deadly black spot.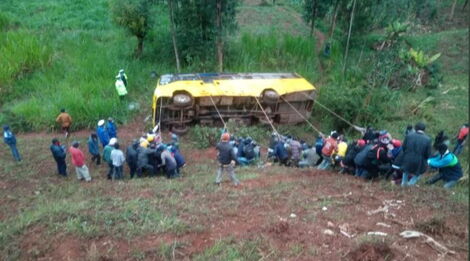 Local residents try to rescue an overturned school bus on the Meru-Nairobi Highway in Tharaka Nithi.
Daily Nation
dead accident died crash