The future of Nairobi's popular Nyama Mama restaurant is now in jeopardy after the franchise's financial woes escalated.
The franchise was placed under administration just months after its owners were accused of acquiring a Ksh 520 million loan.
In a newspaper ad Wednesday, Harveen Gadhoke, the CEO of management consulting firm Adili Associates, announced that he had been appointed administrator effective February 10.
Mombasa Road branch" typeof="foaf:Image"/>
The interior of the Nyama Mama restaurant in the Mombasa Road branch
file
"Once appointed, all affairs, business and property of the company are managed by the steward. The directors of the company no longer have any power or authority to deal with these matters," the ad said.
"Any party that has a claim against the Company should submit its claim in writing to the Administrator for consideration, together with relevant supporting documents and a Proof of Debt form, by March 4, 2022."
The restaurant chain is now facing new problems that are affecting its survival in the Kenyan market.
The restaurant had enjoyed the country's market share, positive response and robust growth, prompting its owners to open more branches in parts of Nairobi.
But now that the franchise is under administration, it means the owners have no control over the multi-million shilling business empire.
The takeover of management by parent company Good Earth Group spells the end of the popular restaurant that has hosted the country's top personalities and even celebrities.
It opened its doors around 2015, catering to various customers and cultivating a Kenyan traditional food brand.
In 2021, the directors of Nyama Mama were accused of receiving a Ksh 520 million loan and the court released them on bail.
The troubles even forced the franchise to cut its workforce by 70 percent, laying off 350 employees.
Profit margins fell drastically, forcing the restaurant to look for partners or private investors while management worked hard to keep the business afloat.
"We've had sleepless nights over the past year considering how to keep this business going and what innovations to innovate with these investments," said one of the directors.
She added: "You can never go wrong when investing in food and beverage. Here we hope to get investors looking for good returns like the African diaspora. We're still here. Because we want to make sure we bring this business back to where it was."
Since the beginning of the pandemic, many restaurants have had to close their doors and even auction them off. This was partly caused by the economic devastation caused by the pandemic as the government introduced restrictions, including closing bars and restaurants in 2020.
The legendary Outspan Hotel was auctioned off in 2021 due to dwindling proceeds, and the same fate befell the Blackyz Lounge and even part of the Dusit D2 Hotel.
However, the government has insisted it has put in place mitigation plans to save the entire tourism sector from the effects of the pandemic.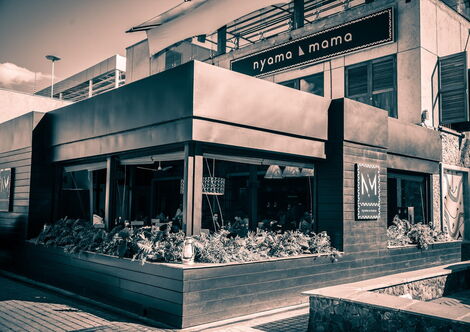 File photo showing the exterior of Nyama Mama restaurant
file