It's not often that a tycoon kicks a presidential hopeful out of his respected establishment over political differences, but this was the case in the run-up to the 2007 general election.
The story of businesswoman Lucy Weru, a relative of then-President Mwai Kibaki, who evicted ODM Party leader Raila Odinga from her hotel in Nyeri made national headlines and continues to be a talking point about Kenya's ugly history of divisive elections.
On August 20, 2007, Raila was joined by then-close allies Joseph Nyaga, Reuben Ndolo and activist Mumbi Ng'aru when he attended the funeral of one of his close friends, Peterson Kaburu, in Mwanda Village, Nyeri County.
ODM leader Raila Odinga addresses the media in Kisumu County on Friday, August 14, 2020
file
At a time of political tension ahead of the 2007 general election, the voter-rich Mt Kenya region was a Balkanized stronghold of Mwai Kibaki – and anyone who dared to associate with his rival Raila was shunned and even stigmatized.
After the funeral, the ODM politicians went to one of the best hotels in Nyeri, the Karatina Tourist Lodge, for lunch, unaware that the hotel belonged to Kibaki's relatives.
No sooner had the politicians ordered lunch than Weru got wind of the unusual guests, stormed into the premises and ordered them to leave.
"Who brought you here? We don't want ODM here. Can you go now please? We don't want your money," she explained at the time.
She took matters into her own hands and called security to carry out her instructions. The ODM leader and his allies then left the premises to avoid further humiliation.
"Tell them to go away, and even if he becomes president, I don't want his help," she scolded.
The scenario didn't sit well with Raila's allies and supporters, who had summoned the tycoon for their actions. However, the former prime minister buried the hatchet during a recent tour in Nyeri, during which he expressed his willingness to let the past rest.
"I sit down and have tea with the woman who kicked me out of her hotel at her house in Karatina because I have forgiven her and we should all forgive one another and be friends," he said at the Kabiru-ini Grounds, Nyeri in November 2021.
The scenario had also sparked political talks with political activist Benji Ndolo, who revisited the matter in a recent tweet, expressing how the former prime minister had faced tough times during the election campaign.
However, the words were not taken lightly by some influential politicians such as former Chief Justice Willy Mutunga, who chastised the politician for bringing up the scenario that discriminated against Raila's rights.
Weru's daughter is married to Kibaki's son David Kagai. Their other daughter Noni is married to flamboyant lawyer Donald Kipkorir.
Interestingly, Kipkorir is an ardent supporter of the former prime minister.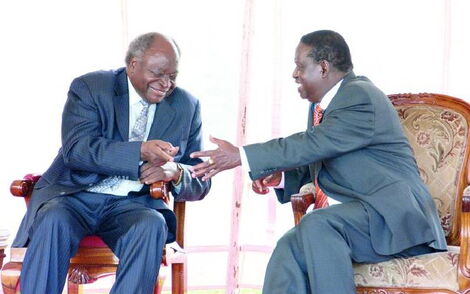 Retired President Mwai Kibaki with ODM leader Raila Odinga
Facebook