[ad_1]
As the prosperity game in Kenya continues to expand, it's easier to see that nearly all billionaires of our time have several similarities with an underlying grass-to-grace story.
For example, most tycoons have proven they had to work hard with a significant portion of the wealthy and influential individuals who rose from abject poverty.
Some had to work at lesser-known village schools, some with full scholarships, but have now proven that no one is restricted under all circumstances.
Here is a list of seven Kenyan tycoons who went to little-known high schools but were accepted into the 1 percent privileges.
1. James Mwangi
Equity Group CEO James Mwangi with his Ernst and Young Award in 2012
file
Born in 1962, celebrated Chief Executive James Mwangi has risen to the top echelons of the banking industry and heads Equity Bank, which has consistently been ranked the best bank for the past 10 years.
However, Mwangi's journey began in Kangema in the mid-20th century and grew up with a single mother after his father's death during the Mau Mau War.
He attended Nyagatugu Primary School in Kangema Village before going to Ichagaki Secondary School on a state scholarship. He then moved to Kangema High School for A-Levels in English Literature and Geography, and went to the University of Nairobi for a Bachelor of Commerce.
Ichagaki is a boarding school for boys in Murang'a District, while Kangema High School, also an out-of-district school, is in the Kangema constituency in the same district.
2. Peter Munga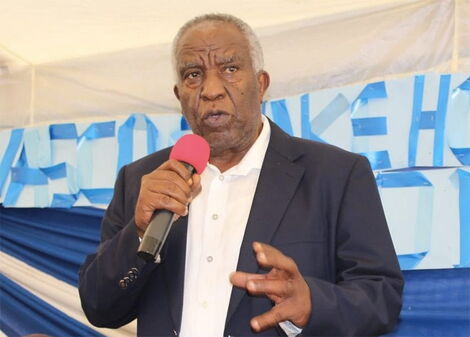 Peter Munga, chairman of the Mt Kenya Foundation, speaks during a past event
Twitter
Peter Munga, another corporation heavyweight, began his journey to run the financial institution in a little-known village in Rwathia, Murang'a County.
Born in 1943, Munga founded the Equity Building Society (EBS) in his hometown of Kangema in 1984 before becoming Equity Group Holdings Limited on December 31, 2014.
Prior to all this success, he had started his business at Gaichanjiru High School in the Kangema constituency before moving to the University of Nairobi.
The 77-year-old worked as an assistant secretary in the Ministry of Water before stepping down in 1993.
3. Jimnah Mbaru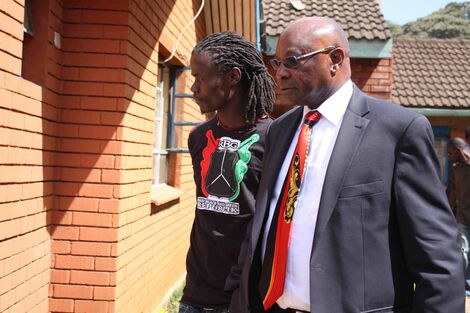 Musician Juliani (left) with billionaire Jimna Mbaru in October 2011.
Facebook
Billionaire Jimnah Mbaru is one of the richest businessmen in the country, but his way to the top has not been so smooth.
Born in a little-known village in Kangema, Murang'a County, Mbaru led most of the landmark transactions in the capital markets including Safaricom IPO, Kenya Power (KPLC) Capital Base Restructuring, Helios' private equity investment in Equity Bank, I&M Bank Bond, Britam Bond and Kenya Eurobond.
However, his journey began at Kirogo Secondary School, located in Murang'a County. He then moved to Strathmore College and the University of Nairobi.
In 2018 he announced his exit from the Nairobi Securities Exchange (NSE). In 2013 he applied for the governorship of Nairobi without success.
4th SK Macharia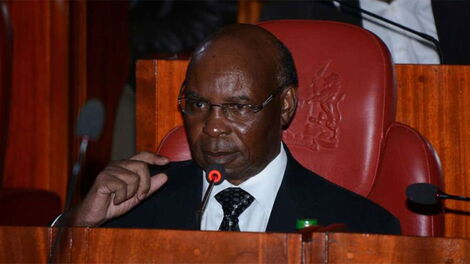 Media owner and billionaire SK Macharia
file
Billionaire SK Macharia, known as the leading media tycoon in Kenya, previously said that his way to the top was by no means easy.
He previously revealed that he lived as a homeless scavenger during the colonial era.
Born in Ndakaini Village, Murang'a County, Macharia worked hard and rose to the top of the food chain. He attended Ndakaini Primary School before moving to Gituru Intermediate School, from where he moved to Kahuhia Teachers Training College.
Today he is the proud founder of Citizen TV and Royal Media Services (RMS). Citizen TV is considered to be the leading television broadcaster in the country.
5. Simon Gicharu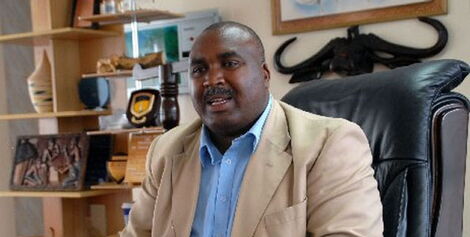 MKU chairman Prof. Simon Gicharu
(DECENT)
Simon Gicharu is the founder of Mt. Kenya University. At the age of 46, Gicharu was the youngest Kenyan to establish a chartered university in the country.
His hard work has been so diligent that his university today employs over 3,000 people and has a student body of approximately 50,000, and has expanded its offices to Rwanda, Somaliland, Tanzania, Burundi, and Uganda.
Prior to all of this success, Gicharus Foundation was rooted in village schools where he attended the Kiawairia Primary School and later the Gathiruini Secondary School. Then he moved to Murang'a High School for his A-levels.
Gicharu's parents were smallholders, and Gicharu and his siblings gathered coffee on large commercial farms just to make ends meet.
6th Tabitha Karanja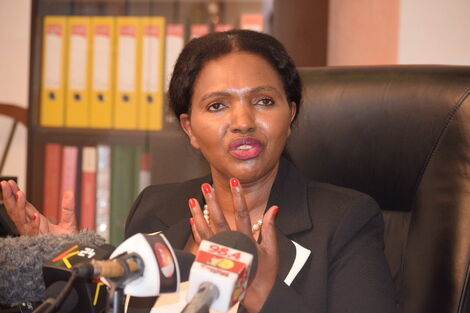 Tabitha Karanja, CEO of Keroche Breweries, speaks during a past press conference
Facebook
Tabitha Karanja, the founder of Keroche Breweries Company, has been hit by scandals lately, but that doesn't detract from her success in building a successful business.
Born in Kijabe, her journey began at Bahati Girls Secondary School in Nakuru County. The facility is classified as an extra-urban school.
After completing her training, she secured a job at the Ministry of Tourism as an accountant. In 1997, she teamed up with her husband to create Keroche Breweries.
7th Peter Muthoka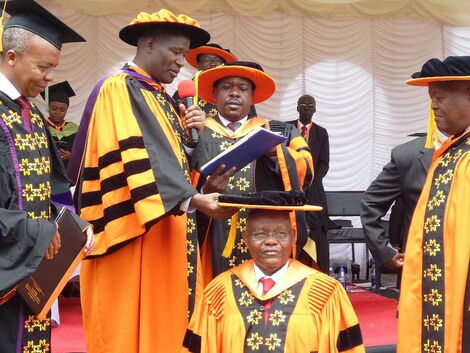 Peter Muthoka at his coronation as Chancellor of the MMUST in December 2017.
Twitter
Peter Muthoka is the founder and CEO of Acceler Global Logistics, one of the largest freight and logistics companies in Kenya.
In 2016, the billionaire was recognized for his entrepreneurship when his company received an award from the World Customs Organization.
However, the billionaire had humble beginnings and attended Nyeri High School in Nyeri County.
death
[ad_2]