[ad_1]
572 people were arrested in Kenya during Interpol's month-long operation from October 1.
A statement by the Directorate of Criminal Investigation (DCI) on Sunday 8 January indicated that the operation to combat illegal, unreported and unregulated fishing in Kenya's inland waters and along the Kenyan coast was underway.
According to a report on the operation launched by Interpol's Environmental Security Program and Sub-Directorate for Maritime Security and coordinated nationally by the Interpol National Central Bureau (NCB) based at DCI headquarters, the use of illegal fishing gear and fishing methods are the main causes of this Paralyze the lifeline of hundreds of thousands of people who depend on fishing.
The overall objective of the operation, named Ikatere, was to monitor and combat illegal activity and it was carried out between October 1 and October 31, 2021.
Some of the arrested fishermen will be dispatched to the port of Kisumu in October 2021.
DCI
The report found that the illegal and unregistered activities harmed marine life and, in some cases, led to conflict between Kenyans and their Ugandan counterparts.
"The report found that the indiscriminate use of small calf nets for Omena Finishing has been the greatest threat to marine life resulting in the destruction of fish hatcheries, particularly in Lake Victoria, Lake Naivasha, and the Lamu Archipelago.
"This has, for example, led to a decline in fish stocks in Lake Victoria, which has led to cross-border conflicts between Ugandan and Kenyan fishermen who are struggling for the scarce resource," the statement said in part.
The report also found that human trafficking is also flourishing in the country's inland waters, particularly in Lake Turkana, where immigrants from Ethiopia illegally cross fishing boats into Kenya in search of greener pastures.
"Smuggling of contraband is also widespread, particularly in Lake Victoria and the coastal waters of Lamu, where sugar, miraa, turtle meat and powdered milk are smuggled by criminals posing as fishermen.
"During the operation, a total of 572 arrests were made in target areas of the Indian Ocean and in the inland waters of Lake Victoria, Lake Turkana, Lake Naivasha and Lake Nakuru," the statement said.
In addition to the arrests, there have been thousands of seizures of non-dutiable goods, banned fishing gear and unregistered fishing vessels.
The operation was conducted in a multi-agency context that brought together Kenyan law enforcement agencies such as the National Police Service, the Kenya Coast Guard Service, the Kenya Maritime Authority and the Kenya Revenue Authority (KRA).
Others were the Department of Immigration Services, the Kenya Fisheries Service, the Kenya Wildlife Service, the National Environmental Management Authority, and the Kenya Ports Authority.
In fact, it does so while tensions continue to rage between Kenyan fishermen and their Ugandan counterparts. Four Ugandans were arrested in mid-December 2021 after harassing Kenyan fishermen.
The four were charged with arresting Kenyan fishermen and demanding Ksh 30,000 from each.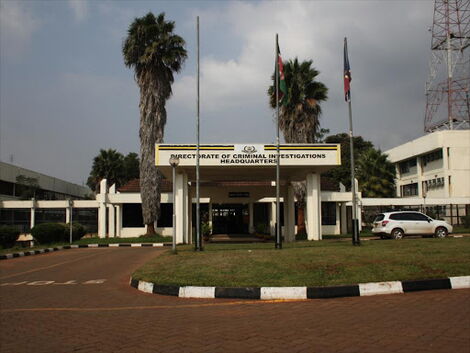 A file image of the DCI headquarters along Kiambu Road
Facebook
criminal harass armed arrest illegal armed
[ad_2]